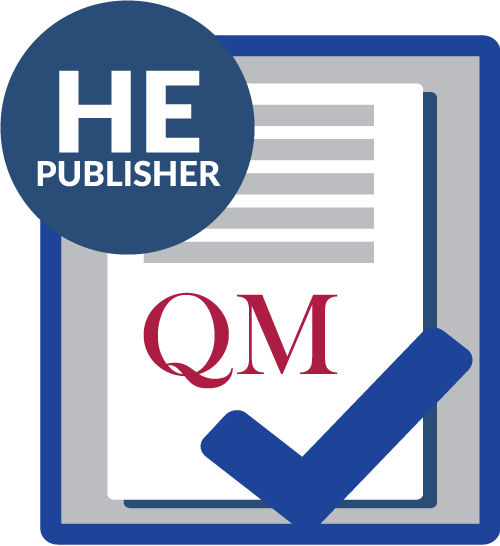 Course Design Rubric Standards
Current Edition: Third Edition, 2015
Description: The Rubric is intended to guide publishers in the design and evaluation of products that can serve as the core of online and blended courses as well as supplements to classroom instruction. Courses that successfully meet the QM Standards in an official course review are eligible to carry the QM Certification Mark.*
Membership Requirements: HE Publisher Subscription or add this Rubric to any membership through a Supplemental Subscription.
Who uses this Rubric?
Though the QM Higher Education Publisher Rubric, like other QM Rubrics, is primarily concerned with course design, it places greater emphasis on the quality of content, as befits publisher-provided materials. These Standards should also assist instructors and departments in selecting publisher courses based on their adherence to best practice and research-supported standards. QM Members using this Rubric include:
Colleges and Universities that adapt publisher products
Educational publishing organizations
Course creators and designers
Key Features
The QM Publisher Rubrics are sets of Standards for the design of courses developed by publishers for use by schools and institutions. Publishers who wish to follow the latest research impacting course design use this Rubric to improve online and blended courses and content that is delivered through a Learning Management System (LMS). The Rubric can be combined with a set of content standards (such as the Common Core Standards) when used to assess the quality for purposes of attaining QM Certification. There are 41 standards in the HE Publisher Rubric — 22 for template elements and 19 for content elements.
The eight General Standards of this Rubric are:
Course Overview and Introduction
Learning Objectives (Competencies)
Assessment and Measurement
Instructional Materials
Course Activities and Learner Interaction
Course Technology
Learner and Instructor Support
Accessibility and Usability*
Development Notes
Quality Matters collaborated with John Wiley & Sons, Inc. to develop and test the original Higher Education Publisher Rubric with the goal of developing a set of quality design standards for diverse publisher products provided on Learning Management System (LMS) platforms.