Steven R. Crawford, Ed.D.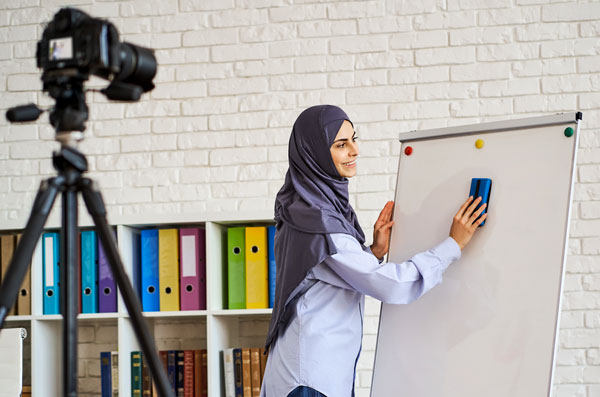 In previous articles, we have focused on the role of audio, screencasting, and voiceover slide presentations for presenting content online. As we look at the role of video in presenting quality content to learners, we will eventually explore three different types of video presentations: 
Single presenter videos
Demonstration videos
Tutoring videos with tutees present in the video
What is a Single Presenter Video?
Typically, single presenter videos are videos where the instructor looks into the camera and lectures directly to their learners through the video. These videos may include visuals, but the primary focus is on the instructor speaking to the learners. However, these types of videos have faced criticism. 
In 2001, Andrewartha and Wilmot described how multimedia was being used to replicate the lecture and how this was insufficient for asynchronous learning. While multimedia allowed for the content to be tailored to the needs of the learner, there was an over-reliance on the performance of the lecturer. In other words, there was an assumption that showing the presenter's enthusiasm and passion was a critical component; however, it was recognized that classroom lectures were too long and should not just be recorded for later playback as a primary content source. 
Therefore, when creating single presenter videos we need to consider how to leverage the social presence that is being created while balancing the length of the videos.
What does the research say?
There have been a number of studies related to the importance of being able to see the presenter in a video presentation. 
The results from studies focusing on the importance of social presence often find no difference whether the presenter is on screen or not. 
Pierson (2017) found a positive relationship between having the presenter on-screen and the student-instructor relationship. The author suggests that some of the reasons for this different result may be related to the evolution of technology over the past 20 years or so and the development of more reliable instruments for measuring social presence. One of the key things an instructor can do while on camera is to utilize the visuals, then shift their gaze from the camera to the relevant portion of the visual. By doing this, learners will shift their attention from the instructor to the visuals they are referencing. 
Wang, Pi, and Hu (2018) found that having the presenter shift their gaze can both increase social presence and more quickly direct the learners' attention to the relevant part of the screen. 
What is a good length?
Many of the studies that provide guidance on video length come from industry reports that often include more than just educationally focused videos. 
Wistia's 2022 State of Video Report shows that in 2021 that 39.8% of the almost 13.5 million videos uploaded to their platform were less than one minute long while 24.8% were five to 30 minutes long. Meanwhile, the videos with the highest level of engagement were those that were less than one minute long and decreased as video length increased. For videos that were five to 30 minutes long, there was a 38% level of engagement and for videos that were over 60 minutes in length, engagement dropped to 16%. The engagement was measured "by taking the total time viewers actually spent watching a given video and dividing that number by the total time they could have spent watching it" (p. 30). 
When researchers have focused on the learners, Clossen (2018) found that "three to four minutes is around the maximum length that most 18- to 29-year-olds are willing to watch" (p. 31). 
In a different study, Afify (2020) found that students performed better on post-tests when the videos were less than six minutes in length when compared to those that were six to 12 minutes long or longer than 12 minutes. The author cites that the improvement in performance may be related to the fact that shorter videos are more focused and avoids overloading working memory, is better aligned with a content chunking strategy, and allows for various active learning activities that include interactive questions or the pause-procedure.
Can I do this myself?
Creating single presenter videos can be among the easiest types for instructors to create, due to the fact that they can be created with a single camera and sometimes captured in a single recording without stopping and restarting during the presentation. Videos are created in this manner by:
Placing your camera on a tripod and aiming the camera at where you will stand. 
Once recorded, you will need only to trim the beginning and end of a video using basic video editing software. 
Some instructors will present in front of a board or flip chart with premade graphics that they can reference during the video.
On the other hand, working with a videographer can potentially improve your presentation in several ways:
By providing expert assistance capturing/filming your presentation.
By providing expertise in editing the video and adding computer-generated graphics. 
By assisting in the planning process to help determine whether visuals should be added during editing or whether they should be on a board next to you while recording. 
The videographer can assist in setting up the lighting to ensure visual clarity and to confirm that your audio is being recorded clearly enough. 
During editing, the videographer can add other visuals to your video such as a title card, content graphics, etc.
If you need to complete your presentation in multiple "takes" the videographer can edit those together to create a single continuous video presentation. 
When developing a video for your online or blended course, the research can assist us in meeting a variety of QM Standards. By developing shorter videos that are less than six minutes in length, you are developing course content that can assist in supporting SRS 3.5 and 5.2. You are doing this by creating content that supports opportunities for interactivity and active learning. For example, SRS 6.2 guides us to consider including a self-check exercise prior to allowing the learner to move on to the next video in the course. Also, when providing these types of videos in your course, you will want to ensure you are providing captions to support all learners as guided by SRS 8.4
---
References
Afify, M. K. (2020). Effect of interactive video length within e-learning environments on cognitive load, cognitive achievement and retention of learning. Turkish Online Journal of Distance Education, 21(4), 68–89. https://doi.org/10.17718/tojde.803360
Andrewartha, G., & Wilmot, S. (2001). Can multimedia meet tertiary educational needs better than the conventional lecture? A case study. Australasian Journal of Educational Technology, 17(1). https://doi.org/10.14742/ajet.1769
Clossen, A. S. (2018). Trope or trap? Role-playing narratives and length in instructional video. Information Technology and Libraries, 37(1), 27–38. https://doi.org/10.6017/ital.v37i1.10046
Pierson, A. (2017). The effect of seeing an instructor's face within an instructional video on connectedness, attention, and satisfaction. (Doctoral Dissertation) ERIC Number: ED577621
Wang, H., Pi, Z., & Hu, W. (2018). The instructor's gaze guidance in video lectures improves learning. Journal of Computer Assisted Learning, 35(1), 42–50. https://doi.org/10.1111/jcal.12309
2022 state of video report. (2022). Wistia. Retrieved May 20, 2022, from https://wistia.com/about/state-of-video