Generate excitement in your classroom, spark creativity and help your students improve their critical thinking skills. How? Use memes! Memes — funny images or videos containing text that are often copied and altered while spreading rapidly through social media — can be a beneficial tool in the classroom.
Memes are very popular with students, making them a very relatable and engaging medium. And since memes are fun, students may not even realize they are learning. Students use both creative and critical-thinking skills while creating memes. Memes can also spark complex conversations since they often deal with current events or social issues. Plus, students gain technology skills in the process.
So how can you use memes in your classroom? Here are some ideas!
Communicate class rules and expectations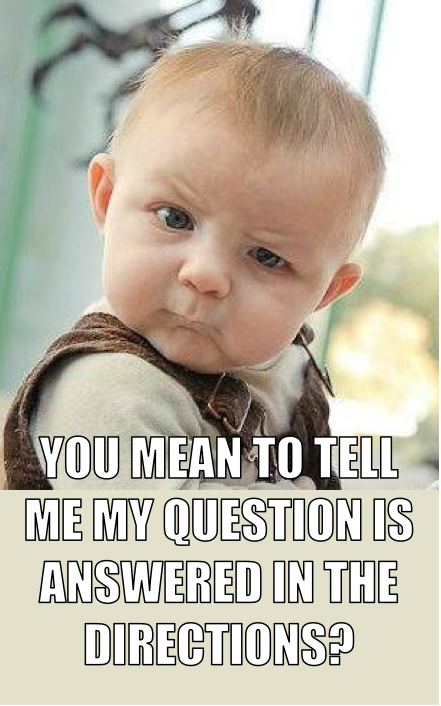 Source: Teacher Memes
Use memes as a fun and different way to inform students of your rules and expectations. You can even have them create their own meme to demonstrate their understanding of those rules and expectations or to show what they think the rules and expectations should be.
Reinforce what you are teaching
Post memes around the classroom or within your online unit that reflect current lessons. This will not only reinforce your curriculum but generate excitement about what is being taught. You can also have students create memes related to what they are learning. For example, have students create a meme related to a reading assignment. This can help them demonstrate their understanding of the material.
Increase vocabulary
Students can create memes to define or use new vocabulary. Have them put the word at the top of the image and then a sentence using the word below.
Introduce new topics
Create excitement about new topics by using memes to introduce them. The memes will also help you grab the attention of your students.
Break the ice
Get to know your students by having them create a meme about themselves. This is also a great way for them to get to know you. Why not create a meme as a way of introducing yourself to the class?
There are many tools QM members use to help their students create memes. Here's a look at some of the most recommended ones:
Meme Generator: This popular and easy-to-use site allows users to create and share memes. They can select an existing image or upload their own. Then, add text and share.

Imgur: This is one of the largest free image platforms on the internet and includes its own meme generator tool. Users can upload a new background or select an existing, popular meme to alter. The text can then be edited and the meme instantly shared.

Quickmeme: On this site, users can "Upload a Funny" to create their own meme from scratch or "Caption a Meme" to select a popular image to personalize.

Make a Meme: Make a Meme makes it super easy for users to create their own memes. Browse through the thumbnails for the meme background image that you want. Then click on the thumbnail to display a pop-up builder where you can customize your text. Then, preview the image before finalizing it.

iMeme: Looking for something a little different? Then iMeme might be right for you. iMeme is actually an app for Mac OS X and Windows. It comes with over 100 templates, an image uploader, share options and several options that allow users to customize their memes.
Please be aware, though, that most meme generators allow users to browse existing memes. Not all content may be appropriate for students.
Have you used memes in your class? If so, we'd love to hear more including what tool you use to create memes. Share it on Twitter, Facebook or LinkedIn. Be sure to tag us at @QMProgram so we can pass your resource along!