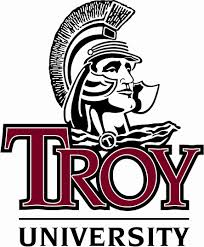 Troy University, founded in 1887, is a public university located in Troy, Alabama. Its main campus has an enrollment of over 6,600 students and the total system enrollment of all Troy University campuses is 22,000, which encompasses not only four Alabama sites, but domestic Global Campus teaching sites, eTROY's distance learning program, Military Contracts, as well as International Teaching Sites World-Wide. Troy University has been providing online courses since the Fall Semester of 1997. Its distance learning initiative, eTROY, is Troy University's primary vehicle to support learning at a distance.
eTROY currently offers 15 Undergraduate Programs, 16 Masters Programs, one Doctoral Program and three Graduate Certificate Programs – all completely online. There are over 8,700 students currently taking classes online via eTROY.
Quality Matters (QM) interviewed Dr. Deb Fortune, Director, eTROY Quality Assurance about the program and its experience with QM. Dr. Fortune holds a doctorate in Distance Education and Instructional Technology. She has been designing and teaching online courses for the last 15 years and teaches both undergraduate and graduate courses online and face-to-face. She is currently responsible for eTROY's quality assurance operations; ensuring high-quality learning for all students taking online courses; developing course review and revision processes incorporating academic peer review, Quality Matters and pedagogical review; developing new training and coaching processes for online faculty in teaching technology and online pedagogy; developing and leading the faculty mentor program and designing the mentor/mentee electronic evaluation forms; and systematically tracking and reviewing Master Syllabi for every online course taught. Dr. Fortune is eTROYs' Institutional Representative to QM. Additionally, she is a Peer Reviewer and a member of the Quality Matters Instructional Designers Association.
How do you use Quality Matters?
Troy University uses the QM process not only as a peer-review process, but also to train its faculty. Every online faculty member who is hired to teach online goes through Troy's Teaching Online Proficiency (TOP) Course. This course covers not only the technology and the pedagogy of teaching online, but also introduces faculty to ALL QM Standards and opens the door for faculty to receive additional training and/or have their online courses assessed by the QM team. QM is also used to help establish a mentoring program to work with new online faculty to help them through the development stages for their first online classes.
All eTROY Instructional Designers receive QM training as part of their introduction to and orientation for the Instructional Design team. Instructional Designers' professional development plans include additional QM training and participation in the peer reviewer and master peer reviewer programs for those Instructional Designers that teach online courses.
The Instructional Designers use the QM criteria as they collaborate and support faculty who are new to teaching online generally and eTROY specifically, who have new online courses and who are developing and/or redesigning new online programs and courses.
The eTROY Instructional Design mission and its work processes uniquely incorporate and reinforce QM standards during the design process, detailed design reviews and course term reviews.
Instructional Design Mission: "We collaborate with TROY faculty to create online courses that meet the needs of the online TROY student. Throughout the design and development process, we ensure courses incorporate quality standards and best distance learning practices. We work with faculty to develop interactive and engaging learning strategies that add value to the learning experience of all students. We provide guidance on building a presence in the online classroom and suggest ways to implement technologies that maximize teaching and learning, while also identifying and adapting instructional techniques to benefit both the online faculty member and the student. The Instructional Designers use a systematic and collaborative approach that includes one-on-one meetings with faculty and Subject Matter Experts, as well as Detailed Design Reviews for new and redesigned courses and Term Course Reviews of all online sections. Our approach is efficient and effective, and instructors tell us our assistance is invaluable."
How have faculty received QM?
Overall, QM has been well received at Troy University. QM has helped in the areas of learning quality standards with new technology while meeting the needs of online learners, understanding online pedagogy and managing workload and time. Members of both the academic community and the eTROY Quality Assurance (QA) division participate in course reviews. The QA division looks at the design elements of each course while faculty (within their fields of expertise) assess course content and structure. Once the courses are reviewed, faculty members receive substantial feedback and instructional design support. There are no negative repercussions affecting either promotion or tenure. This process ensures the institution is striving to achieve quality in its offerings and ensuring its faculty are skilled and informed online professionals.
Faculty are introduced to QM at the beginning of the course creation process. In an effort to guarantee alignment and encourage innovation in the course, faculty are asked to approach course creation as though developing a "new" course. From the course objectives, faculty determine themes or modules and then specific topics of study within those themes. Measurable, topic-or unit-level objectives are then written.
At this point, we introduce faculty to our course planning grid. The planning grid's design helps reinforce key QA ideas such as unit level objectives, alignment and learner interaction. The planning grid also helps faculty identify "busy work", or activities not directly related to objectives, and eliminate or revise them to ensure alignment. Faculty then works with an instructional designer to create course modules. Faculty is expected to generate and post most of their own materials. This allows designers to work with several faculties at once and guarantees that faculty can revise their course as needed.
What are the key elements in promoting QM adoption among faculty?
A few years ago, Troy University set up a faculty feedback group, headed by the Director of Instructional Design, to conduct a needs assessment of faculty and students in the area of online learning and course design. Based on that feedback and their research and experience, it was determined we needed to develop an instrument to guide faculty work and instructional design toward quality online course design and development. Troy decided to purchase a QM subscription.
The eTROY team then required buy-in and support from the faculty for this new program. Dr. Fortune and others saw enlisting department chairs' support as pivotal to this adoption process. "We did a lot of education with our chairs," Dr. Fortune said, "because we understood if the chair wasn't behind the initiative, it wasn't ever going to work. " With some professional development and open meetings, it worked. "It's really amazing to see the change." Dr. Fortune marveled. "The chairs now want a fully-developed schedule for a faculty peer-to-peer review process along with an alternate workload schedule to help establish rigorous standards for those courses not meeting QM Standards for the next re-review process."
Additionally, in order to gain university-wide faculty support, the eTROY team felt it was important to put together a business plan specifically related to online quality support to garner backing from the Academic Affairs Division. The plan included direction for student services and outlined the resources needed to create quality courses to aid in increased enrollments. Support from department chairs and top administrators were the keys to successful QM implementation.
Additionally, the Instructional Designer team uses the QM criteria as they collaborate and support faculty. The eTROY Instructional Design mission and its work processes uniquely incorporate and reinforce QM standards during the design process, detailed design reviews and course term reviews.
How have you taken advantage of QM professional development?
The faculty is offered the opportunity to take any of QM's professional development workshops online. If faculty teach online, they are required to take the Teaching Online Proficiency (TOP) Course offered through TROY. Our Instructional Design team offers various professional development sessions for faculty throughout each academic year which covers all of the QM Rubric Standards. Troy University has several Blackboard Organizations such as eTROY Academics, Faculty Senate and the eTROY Faculty Lounge designed for online faculty to support one another and discuss what goes on in their online environments. They have also created a course titled "Creating an Exemplary eCourse". This course is based on exemplary best practices using the QM Rubric and all quality assurance course reviews are based on the QM Rubric.
What costs are involved?
Faculty and departments don't currently incur any costs to participate in the QM process beyond subscription and professional development fees, which the university pays.
What was your biggest challenge in using or implementing QM?
The main challenge was the time investment, the training and preparation for implementing the QM program. eTROY wanted its constituents to know the institution has a defined structure for quality measures. This way, there's a consistent institutional response and someone who ensures consistency across the array of online courses. We also wanted to ensure an appropriate individualized review of each set of circumstances. Once the plan was laid out, it earned immediate buy-in from the top down. Some of eTROYs' biggest challenges were developing the schedule of courses to be reviewed, training instructors and developing quality courses.
How does your institution use QM to support your re-accreditation efforts?
Troy University is accredited by the Southern Association of Colleges and Schools (SACS). The QM Rubric's evaluative metrics are used as part of eTROY's distance education compliance with SACS. Accrediting bodies, in theory, are focused on program quality, and many of the published accreditation standards and guidelines are attempting to ensure a comparable level of quality for online education and classroom delivery. In order to meet accrediting standards, all faculty members were asked to participate in a Teaching Online Proficiency (TOP) course; this course includes the QM Rubric to determine proficiency. The review of distance education curricula also includes an appraisal of actual courses using the QM Rubric. Course structure is a critical element. Reviewers examine the extent to which faculty add value beyond what a student would read in a textbook.
For example, a faculty member might provide additional information or resources to assist students in understanding difficult concepts. Providing faculty access to specialized resources and technical support for course development and delivery is a sign of a quality distance education initiative and is part of our re-accreditation efforts to support quality enhancement with SACS. Administrators will tell you that they don't like to do things that may jeopardize their accreditation. That said, QM has indeed been a blessing at eTROY for achieving higher quality standards in course design.
What is next for your institution and QM?
eTROY, under the direction of Dr. Glynn Cavin, Associate Vice Chancellor of Distance Learning, is in the process of putting together a Center for Excellence in eLearning. This Center will be a joint effort with the Sorrell College of Business, with the vision to become a nationally-recognized leader and resource for faculty and staff professional development. The Center will help enable teacher-scholars to create knowledge, encourage service learning and contributions to the larger external community and provide educators with the tools and services they need to create transformative learning environments and experiences for their students. New York Times columnist Thomas Friedman said "Education must help learners become 'creative creators' if they are to succeed in the hyper-connected world of today and the future."
The Center will work with and provide university-wide coordination for a variety of activities and resources already being sponsored by university departments and committees to support excellence in teaching and learning. This will include a detailed, comprehensive plan for both internal and external QM Course Reviews. We're also looking to build resources and assets over time for a more robust program of teaching improvement activities.
Dr. Karen Shader, Director of Instructional Design and Educational Resources at eTROY summed up what might best describe our current and forthcoming focus on Excellence in Quality:
"The Quality Matters organization is thinking forward to address the current needs of higher education. Behind the scenes they are thinking critically and studying the changes occurring both here and further afield. We join them in broadening the examination and defining the criteria for quality programs and assessments. We assist faculty in creating a learning environment that contributes to student success on campus and in life. Faculty satisfaction and success are important to our work. Quality and Excellence are at the core of this and all we do."
Educate the mind to think, the heart to feel, the body to act. – Troy University Motto 1887