Dr. Kay Shattuck, D.Ed., QM Director of Research
One of the things that makes QM unique is our regular, rigorous review process to ensure that all we do is supported by research. This holds true for the development of new programs, such as Program Certification, developed in 2015, and the Teaching Online Certificate, developed in 2016. And, it's at the heart of the QM Rubric review process.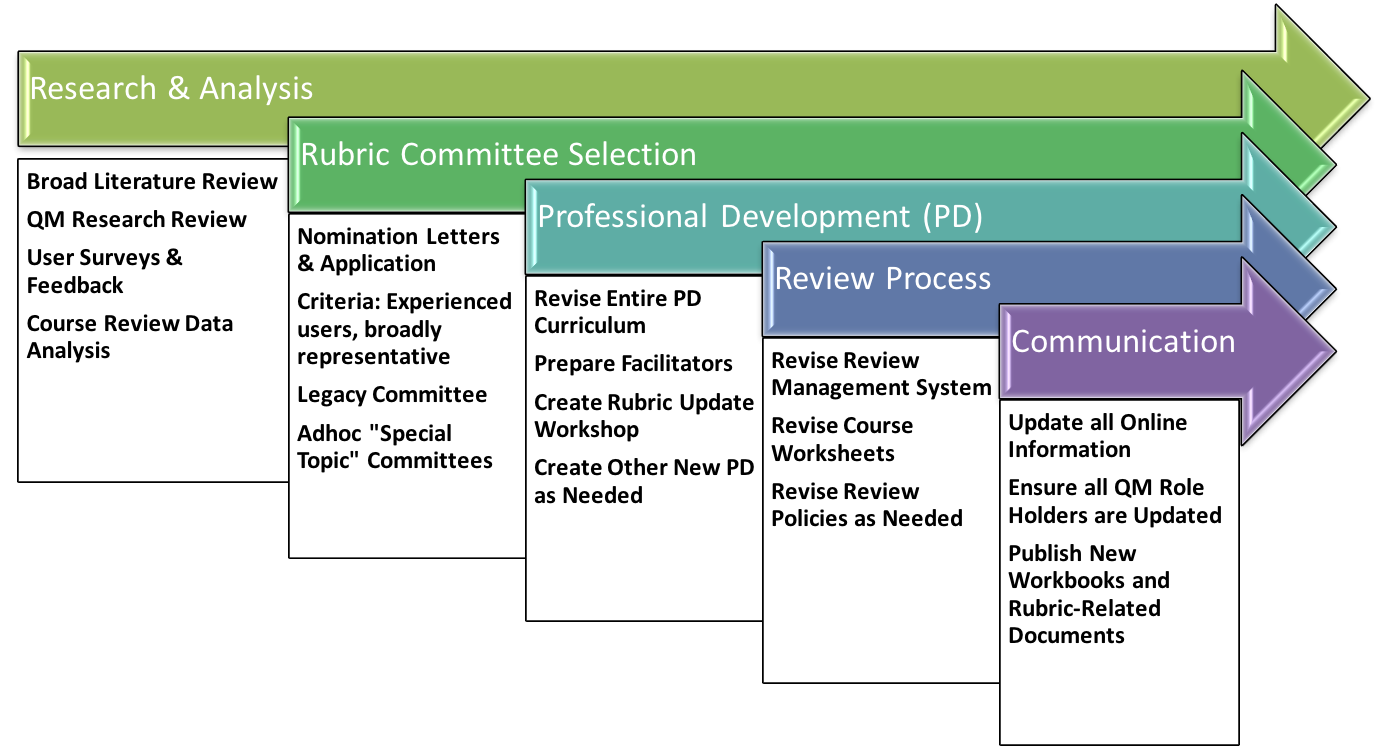 © 2014 Maryland Online
Each Rubric Committee begins its process with a report based on a review of the scholarly research literature. Such a report was issued to the Rubric Committee in 2005 (under the FIPSE grant), with reports on new literature reviews in 2008, 2010, and 2013. An analysis of the most recent literature review has recently been provided to members of the 2017 Higher Education Rubric Committee. It is one of the baseline pieces of information that will inform the committee's work, resulting in the Sixth Edition of the QM Higher Education Rubric.
Why does it matter that the QM Rubric is informed by research?
Since its inception, QM has been about putting research into the practical, everyday world of education. That has to start and continue with analyses of what's being discovered and supported by the independent course- and instructional design-focused research. We need to make sure the Standards reflect any changing emphasis emerging from recent research. The regular, rigorous review of the research literature is an expression of QM's value of continuous improvement.
The most recent review of the scholarly literature was led by Dr. Dave Meabon, Director of the John H. Russel Center for Educational Leadership at the University of Toledo, and conducted with the assistance of Wade Lee, Rachel Barnes, Shannon Neumann, Phoebe Ballard, Mingli Xiao, Shujuan Wang, Silvia Lucaschi-Decker, Silvia Shu, Jeff Jablonski, Claire Stuve, Kirsten Winek, and Lei Song. Following an established methodology, the team from the University of Toledo identified and screened 1,232 articles in 2014-2016 scholarly publications. After three rounds of screenings, 163 studies were selected as studies that provide findings relevant to online course design.
Next, topical themes were identified based on an analysis of the raw data provided by the Toledo group and review of additional research and reports. The aim was to identify the themes and directions of a body of research focused on course design topics. A report on the research review has been provided to the Rubric Committee members as they work on their suggestions for the Sixth Edition of the Higher Ed QM Rubric.
These studies will be added into the QM Research Library in the coming months. The Library offers more than 1,000 vetted scholarly references. So, whether the goal is to find an answer to a question or embark on a research study, QM's Research Library is a great place to start.
Read more about how research informs QM's processes for continuous improvement of the Rubric and Review Processes.