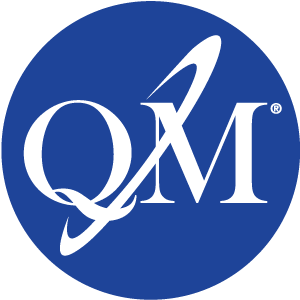 The Quality Matters Certification Mark — achieved through successful QM-Managed and Subscriber-Managed Official Reviews — stands as a symbol of quality in course design. Schools, districts and publishers use the mark to differentiate themselves from other online programs, helping students, parents, teachers, and staff recognize the organization's commitment to providing a quality learning experience that is based on the latest research and best practices.
In addition to potentially achieving the Certification Mark, official reviews offer many benefits, including:
A Fresh Perspective: An official review is often the first time anyone outside of an institution is seeing the course. The review provides fresh ideas from colleagues who are interested in the institution's course and can offer specific feedback in a positive tone to improve the quality of the course and create a more active learning experience for students.
Stronger Course Design: During an official review, course elements are checked for alignment. That results in easier navigation for students, fewer barriers to student achievement and better outcomes. Additionally, instructors report that these improvements result in fewer learner questions and more course engagement.
A Culture of Quality: The impact of official course reviews goes far beyond the course or courses being certified. Using the QM Quality Assurance System even in one area, or one course, begins to instill a "culture of quality" throughout the organization.
Professional Development: Teachers and developers who participate in course reviews as a Reviewer or Chair have the benefit of seeing different course designs, activities, and assessments. They also extend their knowledge of the QM Rubric. It becomes a professional development opportunity that allows them to engage with other faculty or peers in a team aspect across disciplines, throughout the US, and in other countries.
But how do you get ready for an official review?
Readiness can vary from organization to organization depending on an organization's quality assurance goals. However, there are a few steps that most organizations take before submitting courses for official reviews. Here are the top three that we see:
Teachers and developers have been introduced to QM and are onboard with the organization's quality assurance goals.
The organization has made a commitment to invest in professional development so that teachers and developers can learn about the Rubric and how it can be used to improve the student experience.
Successful Internal Reviews or Self Reviews have been conducted by teachers and developers who are certified Course Reviewers or have some Quality Matters professional development.
Again, readiness varies from organization to organization. Some institutions are more systematic and gradually implement QM. They may start with training teachers and developers about using the Rubric, having faculty conduct Self Reviews or Internal Reviews, and then move on to official reviews for certification. Others jump right in for benchmarking purposes. If you think you are ready, please log in to MyQM to access the Course Review Management System (CRMS). There you can complete the Course Review Application — the first step in the review process. Or email the quality assurance department for more information.