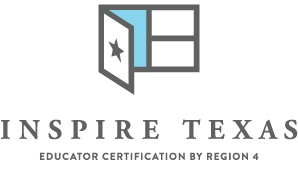 "The external peer review assures that our quality control process transcends organizational boundaries with the objective of making our course an even better learning experience for our students."Rene Ruiz
It's for teachers too! As a leader in educator preparation in Texas, INSPIRE TEXAS by Region 4 is committed to providing the highest quality program for all candidates seeking elementary and secondary teacher certification. Quality Matters is part of that commitment. "Early adoption of the QM Standards is one of the many processes we have implemented in order to ensure we surpass minimum state requirements to prepare our teacher candidates to positively affect student achievement in their future classrooms," says Rene Ruiz, Director, Educator Preparation Solutions for the Region 4 Education Service Center. The ultimate goal, though, is to have the best-prepared teachers in the nation and as Rene shares, "offering quality online courses is critically important in ensuring that our teacher pre-service and post-assignment training is highly rigorous and follows worldwide standards."
INSPIRE TEXAS uses the Continuing Education and Professional Development (CPE) Rubric to integrate quality assurance processes into the design and implementation of their teacher preparation courses. This has resulted in two primary benefits. First, INSPIRE TEXAS has seen an increase in learner engagement in courses that have been designed using the Rubric. Second, instructional designers and content experts are able to view courses from the student perspective.
INSPIRE TEXAS staff have also become QM-Certified Course Reviewers. Having reviewers on staff helps achieve the goal of having the best-prepared teachers and opens lines of communication for collaboration and continuous improvement. As Rene shares, "Our staff's training as Course Reviewers and engagement in QM-Managed Official Course Reviews with other participating colleges and universities allow for an extended dialogue and learning as different institutions collaborate in a shared effort to maintain high levels of quality control in their programs."
The result of the external review process, says Rene, is courses that "are publicly recognized exemplars of the best quality designed coursework available in teacher preparation." Additionally, "The external peer review assures that our quality control process transcends organizational boundaries with the objective of making our course an even better learning experience for our students."
Inspired by the results it has seen since implementing the CPE Rubric into its course design process and QM-Managed Official Course Reviews, INSPIRE TEXAS plans to expand the review process to include its principal preparation program.
INSPIRE TEXAS is not the only K-12-focused organization using the CPE Rubric to provide quality learning experiences for teachers. The Arlington Independent School District (AISD) also uses the Rubric. To learn more about how AISD is using the CPE Rubric, and to see how you could benefit from a similar approach, watch, "Using the CPE Rubric as a Cattle Guard."