CHLOE 7: Tracking Online Learning from Mainstream Acceptance to Universal Adoption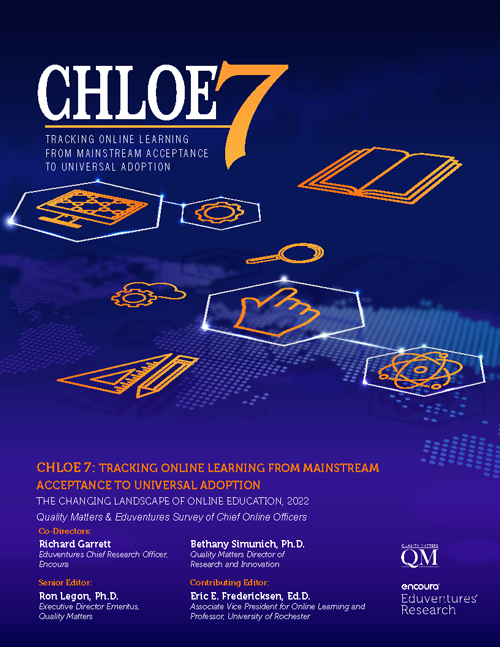 The seventh installment of the Changing Landscape of Online Education (CHLOE) report, produced by Quality Matters™ and Eduventures®, offers an overview of the current state of online learning in higher education as well as insights into its future development. The report was compiled by surveying chief online officers (COOs) at two- and four-year colleges and universities — the professionals best situated to assess the current state of this ever-developing field.
An overwhelming majority of survey participants concur that online learning has become an essential component of higher education, and they see its importance increasing as institutions continue to integrate it into existing programs. Notable findings from the 50+-page report include:
Online learning is becoming fully-integrated. More than 99% of survey participants express confidence that by 2025 the typical student experience at their institutions will involve at least some online learning elements.
Institutional commitment is key. The new centrality of online learning will require a corresponding increase in organizational support, and more than half of respondents say this will entail a restructuring of institutional priorities.
True quality assurance is lacking. While 96% of institutions have adopted quality assurance standards for online courses and programs, there is a gap between adoption of standards and evaluating whether those standards have been met.
Students need support services. As online education increases, online student-facing resources will also need to scale up to serve a new cohort of virtual learners. Mental health services have had the highest rate of growth in the past year.
The next CHLOE survey will continue to track the evolution of online learning and its impact on the quality and effectiveness of students' learning experiences. If you are a COO and wish to participate in the CHLOE 8 Survey, or if you wish to nominate the COO at your institution for inclusion, please provide that information on the download form below and/or contact QM's Manager of Research & Development Barbra Burch.
Please complete the form below to download the report.