The Changing Landscape of Online Education (CHLOE): Behind the Numbers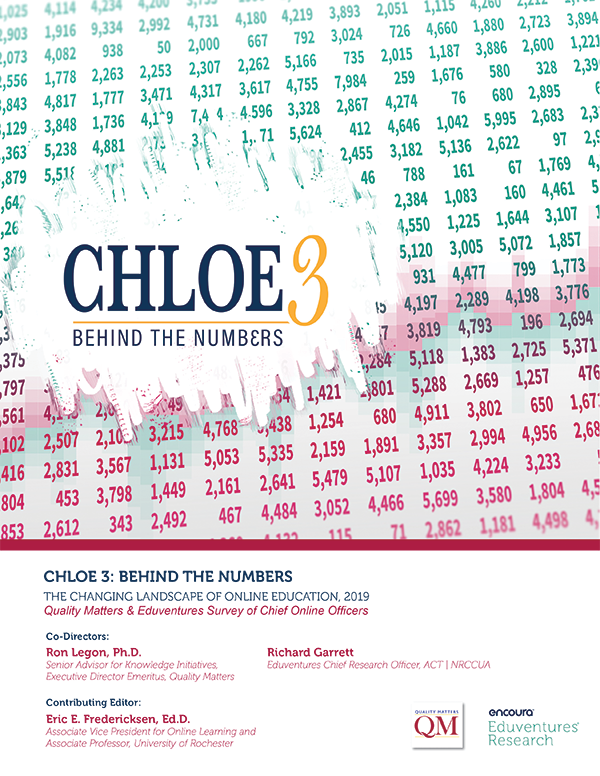 This report is the continuation of a multi-year study by QM and Eduventures to examine the changing landscape of online education, provide results to those who can use them and help those involved with online education place their institution within a broader context and possibly influence strategic decisions and organizational changes. Please complete the form on this page to gain access to the 2019 CHLOE 3 Report.
CHLOE 3 breaks new ground in identifying a number of different institutional approaches to online learning, as crystalized in the descriptions of five models (e.g. Enterprise Schools, Community Colleges). Major themes in CHLOE 3 include a more complete picture of the growth, prevalence, and scope of the Chief Online Officer position; the emergence of online committees and councils as a component of institutional shared governance; associations between online course structure, student engagement and outcomes; and the widespread neglect of coordinated blended learning.
Read the article "Assessing the State of Online Learning: Diving into the CHLOE Surveys" by Dr. Ron Legon for a synopsis of the three reports from the Changing Landscape of Online Education (CHLOE) surveys that were published from 2016-2019.
Read more about the CHLOE project and download other reports in the series >>
Please complete the form below to download the report.