How can I make QM Rubric Standards available to my post-secondary or graduate students?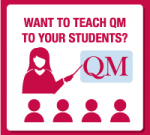 If you are teaching students majoring in education, instructional design, or pre-service teachers, you can bring QM into the classroom with QM for Students, a supplemental subscription. If you've been wanting to incorporate QM Standards into curricula and courses for Instructional Design, or any other program, this supplemental subscription may provide the solution.
It enables faculty and instructors to:
Show the QM Rubric in class without breaking the subscription agreement
Integrate QM into programs of study
Develop curricula about QM
Attain the role of "QM Coach"
Join the "QM Coaches Huddle" for sharing resources and best practices of using QM in courses and programs
Offer QM-licensed workshops at a discounted rate (with appropriate QM training license and qualified facilitator)
Students will be able to:
Use a code to receive a free one-year individual subscription (regularly $175)*
Create unaffiliated MyQM accounts
Complete the QM for Students module that explains the QM programs at a basic level
Here's how to prepare for getting this license:
Identify Peer Reviewers or Master Reviewers who may want to teach QM to their students.**
Identify the term/semester when QM will become part of the course/program.
Inform the QMC of the need for QM For Students.
Allow time for the purchase of the Supplemental Subscription, completion of QM Coach Certification course and other course planning preparations.
Questions? Please contact Membership Services.
**Subscription includes one seat in the QM Coach Certification course. Additional seats are available for $300 per seat.
How QM For Students Works:
Organizations purchases Supplemental Subscription ($550)
Code issued for student purchase of subscriptions (30 included; add-on bundles available at $385 for 10 or $1100 for 30 students)
Faculty complete QM Coach Certification*
Faculty (QM Coaches) added to QM Coaches Huddle
Students choose appropriate subscription
Students complete QM for Students module
QM Coaches use QM in class
Optional: Deliver QM-licensed workshops to students
This supplemental subscription is available for all membership types. Use the "Sign Up for Supplemental Subscription" form to add it to an existing membership.
*Prerequisites for HE are APPQMR and PRC. Prerequisites for K-12 are APPQMR and RC for K-12.