When will the QM Higher Ed Rubric, Sixth Edition be updated?
The QM Higher Education Rubric, Seventh Edition Revision is Underway
July 20, 2022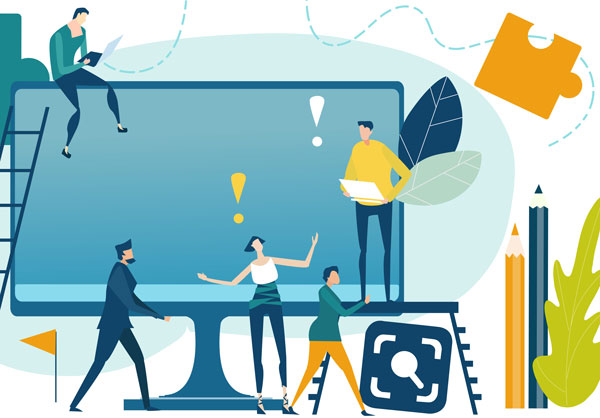 Release of the Seventh Edition is slated for early July 2023. Members will find the Rubric inside MyQM course review tools automatically.
"The QM HE Rubric Revision is off to a great start," says Bethany Simunich, PhD, QM Vice President of Innovation & Research and Co-Chair of the Rubric Committee. "We have an expanded 16-member expert committee that is already hard at work diving into the QM Community Survey results and relevant research. This is a year-long commitment and effort of the Rubric Revision Committee – an amazing group that spans various disciplines, roles, institutional types, and areas of expertise — we cannot thank them enough for helping to improve the gold standard for evaluating quality online design!"
Overview of the Rubric Revision Process
QM Rubrics are updated periodically in the spirit of continuous improvement and to align with best practices, research and insights from QM Official Course Reviews.
The QM Higher Ed Rubric is updated by an expert committee of online teaching faculty, administrators, researchers, and design and technology staff from throughout the QM Community. While QM staff are not directly involved in making updates, staff members guide and coordinate the work of the committee.
This is a grass-roots process, led by 16 professionals chosen from over 200 nominations by the QM Community — the very people living and working in the "online trenches", using the Rubric on a day-to-day basis. A legacy Rubric Committee also advises the work of this group. 
Areas of Focus for the Seventh Edition
Emphasis on issues revealed in the focus on online learning brought on by the pandemic, including a desire to expand digital learning modalities and to elevate and deepen inclusive design considerations throughout.
Broader conversations about diversity, equity and inclusion (DEI), as well as QM's work in culturally-responsive and inclusive design (e.g., Support Student Success With Culturally Responsive Course Design, the White Paper: Course Design Considerations for Inclusion and Representation) spurred the initiative to expand and deepen inclusive design in the Rubric itself.
Institutional continuing education courses will be addressed in this edition by integrating Annotation instructions for how to apply the Specific Review Standard to non-credit-bearing courses. The current Continuing and Professional Education Rubric will be updated so that it can be applied to training in corporate environments and professional learning.
Accessibility continues to challenge QM-Certified Peer Reviewers during course reviews and faculty having courses reviewed. The Rubric Committee will work to improve the Specific Review Standards on accessibility. 
Important to Note
We will provide more detailed updates early in 2023 to help you plan your transition to using the Seventh Edition. Right now, however, there's no need to change your plans for internal or Official Course Reviews.
Any reviews currently underway or planned prior to the Seventh Edition release will continue to use the Sixth Edition.
With the Seventh Edition release slated for July 5, 2023, all course reviews started on or after that date will use the Seventh Edition.
Self-paced Rubric Update sessions will be available June 5, 2023 through January 5, 2024, and will be required for all QM role holders. The sessions are free of charge to QM Members and the registration process will be widely communicated in 2023.
QM HE Rubric, Seventh Edition workbooks will be available for pre-order in May, 2023.
Course Review Managers, Peer Reviewers and Master Reviewers must complete the Rubric Update before January 5, 2024 to maintain their roles. Facilitators (APPQMR, IYOC, and DYOC) must complete the Rubric Update to retain their role but will need to complete it before they register for the Facilitator Recertification.
A special thank you to the Higher Ed, Seventh Edition Rubric Committee members:
Racheal Brooks

Director, Office of eLearning, North Carolina Central University

Anna Catterson

Executive Director, Online Learning, Heartland Community College

Rebecca Cottrell

Online and Hybrid Course Development Analyst, Metropolitan State University

Amanda Hardman

Learning Designer, Colorado Community Colleges Online

Jennifer Davis

Senior Instructional Designer & Quality Assurance Coordinator, Sinclair Community College

Dan Keast

Rochester Professor, The University of Texas Permian Basin

Lisa Kidder

Quality+ Program Manager, Idaho State University

Michael Scott Lail

Assistant Professor of Accounting, Wingate University

Virtual College Faculty, University of Northwestern Ohio

Samira Laouzai

Deputy Director/Manager of eLearning Services and Quality Assurance, The University of Alabama at Birmingham

Andrea Lindsay

Professor and Praxis Program Director, Butler County Community College

Katherine McAlvage

Assistant Director, Course Development and Training, Oregon State University eCampus

Cheryl Neudauer

Biology Faculty, Minneapolis Community and Technical College

Beth Oyarzun

Clinical Assistant Professor, The University of North Carolina at Charlotte

Jeffrey Suarez-Grant

Senior Instructional Designer, California State University, Los Angeles

Sherrell Wheeler

Director of Online Quality Assurance, Professor of Business, New Mexico State University - Alamagordo

Nicole Williams

Associate Professor, University of Findlay