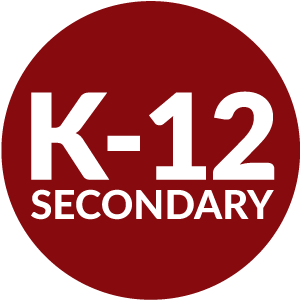 Consortium Subscription
When two or more K-12 organizations sign up for a Consortium Membership, each organization gets all the benefits of a Basic Subscription plus a Course Review Management System license at a 10% discount. All faculty and staff within each organization get access to QM tools and resources that will enable them work together to improve the quality of their online and blended courses for K-12 students. This subscription activates membership for each subscribing organization for one year. It includes:
2+ Organizations: All Faculty & Staff
Fully annotated K-12 Rubric
Fully annotated K-12 Publisher Rubric
Access to Course Review Management System
Discounts on QM-Managed Course Reviews
Discounts on professional development
Discounts on conferences
Free QM Coordinator training
Free QM IDA Membership
Free QM Success Stories webinars
MyQM tools and QA resources
My Custom Reviews (MyCR)
Custom reports
Lead: $1150/yr (July 1 = $1275)
Affiliate(s): $1150/yr (July 1 = $1275)
Is this Membership right for you?
This subscription gives organizations a more cost-effective way to collaborate with one another as they work toward improving course design and meeting QM standards. Organizations who join this Membership will benefit from internal collaborative course reviews, sharing QM resources, and leveraging professional development workshops to inspire action across the consortium. Anyone can form a consortium, you don't have to be in the same city, state, or even country! If there is another organization with whom you have a relationship, consider teaming up and forming a consortium, so that you can help one another increase the capacity to improve your online and blended courses, using trusted Quality Assurance tools and processes.
How the Consortium Lead and Consortium Affiliate relationship works
One organization will be responsible for taking the lead and showing Affiliates the value of joining a consortium that's dedicated to quality assurance in online learning. Ideally, the Consortium Lead should be passionate about creating a culture that's focused on continuous improvement. The Consortium Lead QM and QM Coordinator for each organization will work together to make sure all staff and faculty are using the membership effectively.
What your Membership includes
Two fully annotated, web-based K-12 QM Rubrics that help you to design or select high-quality courses
Ability to conduct internal collaborative reviews using staff from any affiliate organization in your consortium
Access to the Self-Review Tool
Ability to purchase a training license that can be used to deliver the APPQMR to any affiliate in your consortium.
Access to the Derived National Standards for Quality Online Courses Report on course reviews
Two complimentary seats in the QM Coordinator training
Discounts on Official QM-managed course reviews, conferences, and professional development
MyCR allows you to create custom Rubric worksheets when evaluating courses
Custom reports allow your QM Coordinator to track how people are using the membership
QM IDA Membership, which connects instructional designers to resources that support their QM efforts
The QM Research Library helps you create a culture of quality assurance within your organization
Exclusive QM Success Stories webinars from other Members
How to make the most of your Membership
Define your quality assurance goals for course improvement and create a QM implementation plan
Select a QM Coordinator who will champion QM and inspire effective implementation across your organization
Consider the professional development needs of your faculty and staff for learning to use the QM Rubric, facilitating workshops, and improving courses
Review and share QM Research resources
Use the Self Review and Internal Review course review processes to prepare for Official Course Reviews that can lead to QM-certified courses
Become part of a community that believes quality matters
Once you become a QM member, you can begin to spread the word at your organization and build support for quality assurance in online learning. Anytime you need support, the QM Community is here for you.
Next steps — activate your Membership
Make a list of Affiliates that will be a part of the system (you can always add/change later)
Select your Consortium Lead QM Coordinator and encourage each organization to choose their own QM Coordinator
Fill out the form on the right
Review, sign, and return the Subscription Agreement you'll receive via email
Process payment information received with the Subscription Agreement
Create MyQM Accounts and start using your membership
Resources and community await you
Gain access to research and insights related to QM and online learning
Get support from QM Colleagues
Lead QMC Retreat for brainstorming and collaborating with other Lead QMCs
Learn from QM Success Stories
Attend conferences at a discounted rate
Introduce Instructional Designers to the QM IDA
See options for getting your team up to speed by completing the "Applying the Quality Matters Rubric" workshop