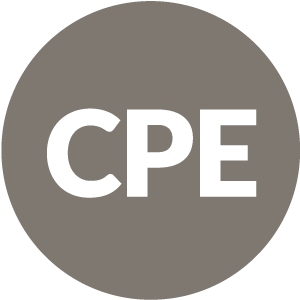 CPE Subscription
Do you offer corporate training, personal development, or non-credit courses? The CPE Membership gives you the tools and resources you need to guarantee that the online and blended courses you develop or provide meet standards for quality course design. Delivering well-designed courses based on current research and best practices will ensure that your CPE offerings are effective. This subscription activates membership for a single organization for one year. It includes:
1 Organization: All Staff
Fully annotated CPE Rubric access
Discounts on Official QM-managed Course Reviews
Discounts on professional development
Discounts on conferences
Free QM Coordinator training
Free QM IDA Membership
Free QM Success Stories webinars
Course Review Management System
My Custom Reviews (MyCR)
Custom reports
For-profit: $1650-$2200/yr
Non-profit: $1650/yr
Texas Educator Prep.: $1210/yr
Is this Membership right for you?
The CPE Membership benefits individuals and organizations that are interested in improving the quality of their non-credit, professional training, and/or personal development courses. Using the CPE Rubric—along with MyQM review tools—you can evaluate courses and see what needs to be improved in order to meet QM Standards. You can also request Official Reviews by QM, which can lead to receiving QM Certification marks for courses that meet QM Standards. This will enable you to create and sustain a successful CPE program that ensures maximum ROI and delivers the results you expect.
If you are a current QM Member with a Higher Ed or K-12 Subscription, you can add the CPE Rubric to your membership with a supplemental membership. Individuals who purchase an Individual QM Membership can choose the CPE Rubric and access it to do Self Reviews in MyQM.
CPE Membership options
If you're a for-profit organization and have 25 or more courses to be reviewed, your annual fee is $2,200
If you're a for-profit organization and have fewer than 25 courses to be reviewed, your annual fee is $1,650
If you're a non-profit organization, your annual fee is $1,650—regardless of total courses you want to review
If you're a Texas Educator Preparation Program provider looking to meet requirements for the Texas Administrative Code for Education Preparation Programs, your annual fee is $1,210
In addition, Official Course Review fees depend on the total number of hours it takes for participants to complete your course. Contact us for more information on pricing or how to use this subscription to meet your quality assurance goals.
What your Membership includes
A fully annotated, web-based CPE QM Rubric that helps you evaluate and improve the quality of your courses
One Official Course Review per year (for association providers only)
Two complimentary seats in the QM Coordinator training
Discounts on Official QM-managed course reviews, conferences, and professional development
MyCR allows you to create custom Rubric worksheets when evaluating courses
Custom reports allow your QM Coordinator to track how people are using the membership
QM IDA Membership, which connects instructional designers to resources that support their QM efforts
The QM Research Library helps you create a culture of quality assurance within your organization
Exclusive QM Success Stories webinars from other Members
How to make the most of your Membership
Define your quality assurance goals for course improvement and create a QM implementation plan
Select a QM Coordinator who will champion QM and inspire effective implementation across your organization
Consider your organization's professional development needs for learning to use the QM Rubric, and improving courses
Review and share QM Research resources
Become part of a community that believes quality matters
Once you become a QM member, you can begin to spread the word at your organization and build support for quality assurance in online learning. Anytime you need support, the QM Community is here for you.
Next steps — activate your Membership
Select your QM Coordinator
Fill out the form on the right
Review, sign, and return the Subscription Agreement you'll receive via email
Process payment information received with the Subscription Agreement
Create a MyQM Account and start using your membership
Resources and community await you
Gain access to research and insights related to QM and online learning
Get support from QM Colleagues
Learn from QM Success Stories
Attend conferences at a discounted rate
Introduce Instructional Designers to the QM IDA
See options for getting your team up to speed by completing the "Applying the Quality Matters Rubric" workshop