QM IDA Chair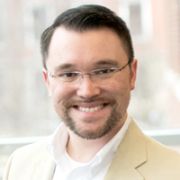 Steve is a Senior Instructional Designer at the University of Akron. Prior to joining UA, Steve served as the Associate Director of Online Learning at Ashland University. Currently, he serves as one of the Ohio QM Consortium's State Leads and is the chair of their executive committee.
Through his over fifteen years of instructional design and technology education experience, he has been able to help grow online programs as well as provide insight and guidance into the online course development process. He specializes in working one-on-one with faculty members to help them create dynamic, well-designed, objective-focused courses. Steve has delivered numerous workshops and conference presentations on open educational resources, gamification, metacognitive strategy, student engagement, and faculty professional development.
Steve holds a Bachelor of Science and Technology (BST) degree specializing in Visual Communications and Technology Education. Steve also holds a Masters degree in Education (M.Ed.) with a focus on Instructional Design and Adult Learning.