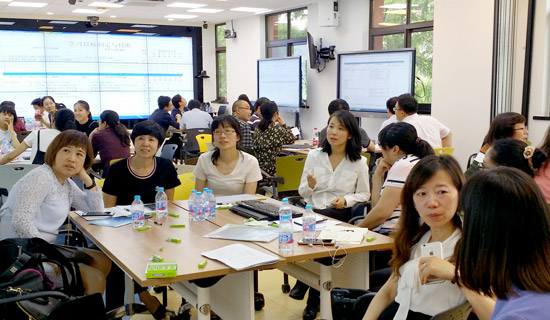 As Quality Matters (QM) extends its global reach, we now have members who speak many different languages including English, Chinese, Arabic, Japanese, Spanish, and French. But there is never a language barrier. Why? Because our members all speak the shared language of quality assurance.
This was evident at the recent 2018 Fudan Annual Conference on Innovative Teaching & Learning in Shanghai, China. The conference, co-hosted by Quality Matters, brought together QM members and staff from several countries including China, the Kingdom of Saudi Arabia, Vietnam, and the United States. The annual conference is part of Fudan University's quality assurance efforts.
Fudan University was Quality Matters (QM) first international partner. Since signing a Cooperation Agreement in May 2015, the University has taken several steps to implement QM, including sending staff and faculty through the Applying the Quality Matters Rubric workshop and conducting Internal Reviews with the QM Higher Education Rubric, Fifth Edition. Taking things one step further to better meet their unique needs, Professor Dr. Yan Ding led a research study that resulted in the first edition of the Fudan-QM Higher Education Online Course Quality Standards for China. This effort resulted in Fudan and QM receiving the United States Distance Learning Association's inaugural Global Impact Award. Fudan continues to use the adapted Chinese Standards to guide their course design and development process internally.
Fudan's quality assurance efforts are strengthened by strong support from the top down. From the very beginning, Fudan's Vice President Fang Lu has served in a leadership role for this collaboration. Dr. Lu and his team promote QM and the Chinese Standards through various methods, including national conferences, papers and publications. And that's not all. As part of their efforts to create a comprehensive system of quality throughout China, the University has included key officials and other universities in its conferences. High-level officials from the Ministry of Education in China and from the Shanghai Educational Bureau as well as senior officers at Fudan were all invited to participate in the Fudan Annual Conference. And administrators from major Chinese higher education institutions participated in a conference roundtable where participants brainstormed ideas and provided feedback on strategies to promote QM's quality assurance process and the continuous improvement of the Chinese Standards.
"We are thrilled that QM is collaborating with Fudan, and we are very much interested in the adapted Fudan-QM Standards in Chinese because quality assurance is becoming increasingly important as we develop and offer more online courses and programs," said Professor Xiao Zhang, Director of Curriculum Development at Jiangsu Open University.
As the global commitment to quality assurance in online and blended learning continues to grow, Quality Matters is here to serve as a collaborator, helping institutions throughout the world fill a void in their growing online initiatives. As QM's Senior Academic Director: Member Services & Partnerships Yaping Gao explains, "In China, as well as in many other countries and regions, it is not technology or infrastructure that is lacking, it is pedagogy and instructional design theories and best practices that is a void. QM's Rubric and related services are research-supported and based on best practices. Why reinvent the wheel?"
Quality Matters looks forward to working with institutions from countries around the world to understand their current online learning status as well as local traditions and pedagogy. Then, to move forward in a collaborative manner to localize QM Standards and services to meet regional needs and disseminate adapted standards and offer services.
---
If you are interested in bringing Quality Matters to your international institution, please contact Yaping. You may also contribute to the international quality assurance effort by joining iQM – QM's International Association – which works to support and advance QM outside of the U.S. The iQM Association Membership Application is available in MyQM in My Tools>Role Applications. Questions? Contact Yaping.