What organizations have QM recognized Implementation Plans?
Implementation plans are a valuable strategy to spread the adoption of QM throughout a program or institution. If your institution or program has made a commitment to implement the most recent edition of the entire Quality Matters Rubric across your online/blended curriculum over an extended period of time, you are eligible to apply for Quality Matters Recognition of your implementation plan.
The following colleges and universities have been recognized by QM for their Implementation Plans:
2017-2020
Christ College of Nursing and Health Sciences
College of Albermarie
Morningside College
2016-2019
Aultman College of Nursing & Health Sciences
Central New Mexico Community College
Columbia Southern University
New Mexico State University - Las Cruses
Northwood University - Michigan
San Juan College
Washburn University - School of Nursing
2015-2018
American International College
Colorado Community Colleges Online
Norfolk State University
Northern Illinois University
Suffolk County Community College
Texas A&M University - Central Texas
University of Alabama at Birmingham
University of Arizona Online
University of Mississippi Medical Center
2014-2017
Adler University
Armstrong Atlantic State University
Ball State University
Capella University
Chamberlain College of Nursing
Cincinnati State Technical and Community College
Cleveland State University
Lakeland Community College
National-Louis University
New Mexico State University - Alamogordo
New Mexico State University - Las Cruces
Saint Louis University
Texas A&M University Texarkana
The University of Arkansas at Little Rock
Trinidad State Junior College
University of Indianapolis
University of North Florida
Western Carolina University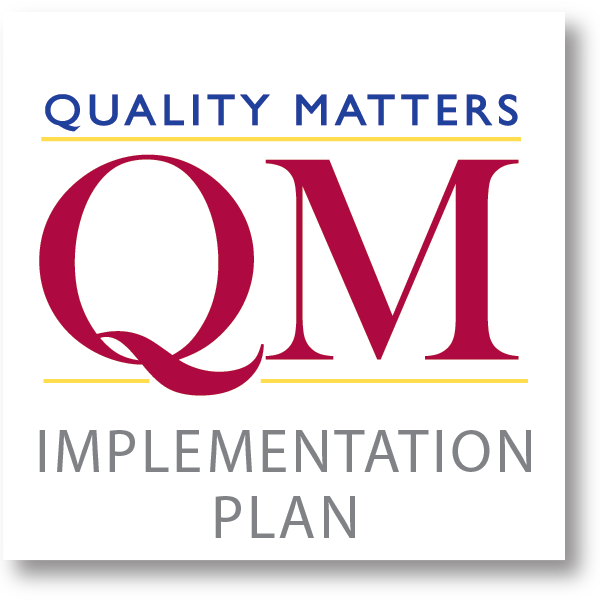 ​
Elements of a Recognized Plan
Plan reflects specific goals and objectives for your institution or program
Plan establishes benchmarks over a three year period
Plan should include at least some official QM-Managed or Subscriber-Managed course reviews.
We advise that the Plan also include internal (unofficial) reviews, faculty development workshops, other QM training, and other components that are unique to the institution or program.
Process
QM Coordinator completes QMC Training and Applying the QM Rubric Workshop.
Organization or Program successfully completes one or more official QM or Subscriber-Managed course review.
Organization creates narrative containing overall objectives of the QM implementation and how the various components and activities contribute to the achievement of those objectives.
For more information about planning your QM implementation, contact QM's Director of Quality Assurance.